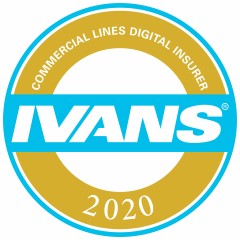 Encova Insurance has been awarded the IVANS Digital Insurer Gold Award in Commercial Lines for the second year in a row. IVANS Gold Award winners receive recognition based on insurers' ability to provide connectivity and automation information exchange with agency partners across policy lifecycles.
Earlier this month, Encova was presented the award at IVANS' annual conference, IVANS Connect. With the reception of the Digital Insurer Gold Award, Encova is being recognized as a national leader in modern digital technologies. Since 2017, Encova has integrated dozens of state-of-the-art products to create a cutting-edge digital experience for commercial lines agents, policyholders and associates.
Since launching their innovative commercial lines solution, Encova has written over $540 million incommercial lines premium on its new platform. The solution is now available to independent agents in 19 states: Illinois, Indiana, Iowa, Kentucky, Maine, Massachusetts, Michigan, Minnesota, Nebraska, New Hampshire, Ohio, Pennsylvania, Rhode Island, South Carolina, Tennessee, Vermont, Virginia, West Virginia and Wisconsin.

"This recognition from IVANS is a great achievement for our organization," Encova Executive Vice President and Chief Strategy Officer John Kessler said. "We are humbled and honored to receive this award for a second year in a row. Through our partnership with IVANS, we have been able to dramatically improve the experience for our appointed agents and deliver on our mission to be the most trusted and responsive provider of industry leading solutions. We couldn't be prouder of our team and what we've been able to accomplish together."
Due to the success of the commercial lines conversions and the company's commitment to providing smart technology solutions, Encova is currently transforming its personal lines offering, which includes onboarding agents onto the industry-leading online platform. The Personal Lines Transformation has been rolled out to agents in Indiana and West Virginia, with plans to launch in Ohio later this fall. This will position Encova's entire book of business on modern, state-of-the-art systems, offering increased ease-of-doing business for all Encova's independent agents.