Claims regions updated
To ensure we're providing the best service possible to our agents and policyholders, we continuously monitor claim levels for each of our regions. To better balance workloads and capitalize on the expertise of our associates, we updated our regions, effective Friday, June 29, 2018.
We now have three regions: Northwest Region, Atlantic Region and Southern Region. The Central Region merged with these three regions.
Northern Ohio and Michigan are part of the Northwest Region.

Eastern Ohio is part of the Atlantic Region.

Central and Western Ohio are part of the Southern Region.
The level of service you've always received from Motorists will continue. However, your contact for claims-related questions may have changed, so please consult our claims region map and the contact information for your area.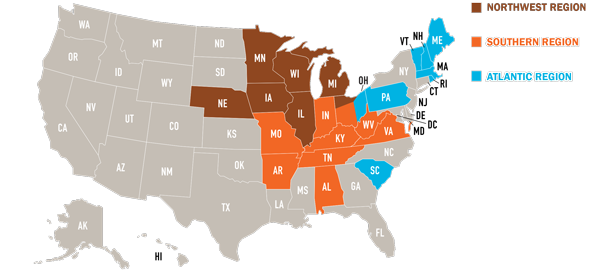 Regional Claims Managers
Northwest Region

Tim Kemmel
920-458-6318
tim.kemmel@motoristsgroup.com
Southern Region

Randy McKinney
513-387-2725
randy.mckinney@motoristsgroup.com
Atlantic Region

Judy Palamara
412-858-1110
judy.palamara@motoristsgroup.com
Please contact your district sales manager if you have questions. We appreciate you representing Motorists Insurance Group and providing premier customer service to our policyholders.