2018 Guidewire Innovation Award winner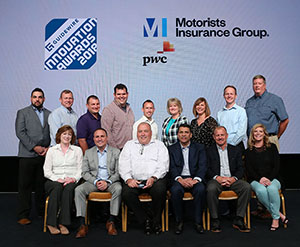 Motorists Insurance Group has been selected as a winner of the 2018 Guidewire Innovation Award. The award honors those who have best demonstrated business and information technology benefits experienced through the use of Guidewire products. In partnership with PwC, we leveraged the Guidewire InsuranceSuite and Digital Portal platforms in the May 2017 launch of our new commercial lines solution, Motorists Insurance.
Guidewire honored our achievement on Tuesday, Oct. 16, during the awards ceremony at Guidewire Connections at the Wynn Las Vegas. Motorists Executive Vice President and Chief Information Officer Tony Laska accepted the award on behalf of the company.
Also at Guidewire Connections, Motorists Vice President, Customer Experience Officer James Sullivan participated in a Q&A breakout session, during which he discussed our award-winning project in more detail with other winners and conference attendees.
We are excited about the future and the technological leap we've made to better serve our customers. This award represents our continued commitment to our policyholders and agents and our position in the industry as a leader with innovative solutions.
Read the full news release here.